No homeowner wants to come home to deal with a clogged drain. Clogged drains are not only a nuisance, they can cause flooding in your home depending on where the clog is located. An unchecked clog can lead to widespread damage in your home, including bacteria, mold, and unwanted odors.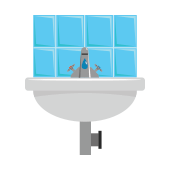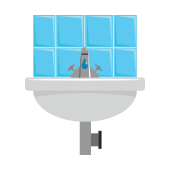 Shower & Bathtub Drains: When in use, you should never see an inch or two of water covering your feet on the shower floor (unless you are taking a bath). If you are experiencing standing water, you have clogged drains
Kitchen Drains: Over time, kitchen sinks accumulate soap, grease, fats and anything else that is poured down the sink. Our technicians restore your kitchen drains.
Toilet Drains: the pipes leading away from your toilet are often overstuffed with toilet paper and other flushable materials. On occasion children's toys, cell phone, or other unexpected objects can accidentally fall in and get stuck. If that's happened to you, call your local plumbing professionals. We can feed a drain snake down the drain to unclog your worries.
Floor Drains: Commonly found in laundry rooms, garages, and basements. Floor drains accumulate debris, soap and other unwanted materials. We have the necessary equipment to restore your floor drain pipes.
We serve both residential and
commercial customers.
When your sink and toilets start acting up, T.J. Huggard Plumbing is the one to call. We work on everything. General plumbing repairs, water heaters, drain cleaning, new fixtures, pipes for remodels and additions, broken or clogged toilets, water softeners, and everything else you need to have working water in your home or business.
As a locally owned and operated company, we make sure that our plumbing experts are fully equipped with the necessary tools to get the job done, no matter how big or small. At T.J. Huggard Plumbing, our goal is to be the most trustworthy plumbers in American Fork, Utah and surrounding areas. For all your plumbing, sewer repair, pipe lining, and other plumbing needs, give us a call.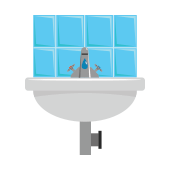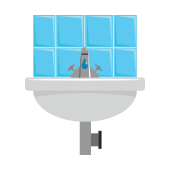 Leave us a message and we'll get back to you and get you scheduled!
Wow, they are passionate about plumbing. They know their stuff and enjoy doing the work which means for a better job and a more pleasant experience working with them.
Because of our schedule, T.J. was able to come at the last minute, twice. He was very professional and was able to install our new faucet and garbage disposal the 1st visit and hookup the dishwasher, fridge waterline and fix the water issues with our washing machine the 2nd visit.
I had a great experience with T.J. Plumbing. They were considerate, timely, and a great price. They were great at explaining and fixed my hot water within a day. I am so grateful! They saved us and it didn't cost an arm and a leg.